Stone Veneer Work
Stone Veneer Construction for Milwaukee and Southeast Wisconsin
Waukesha Fireplace Design and Installation Specialists Also Do Stone Veneer Work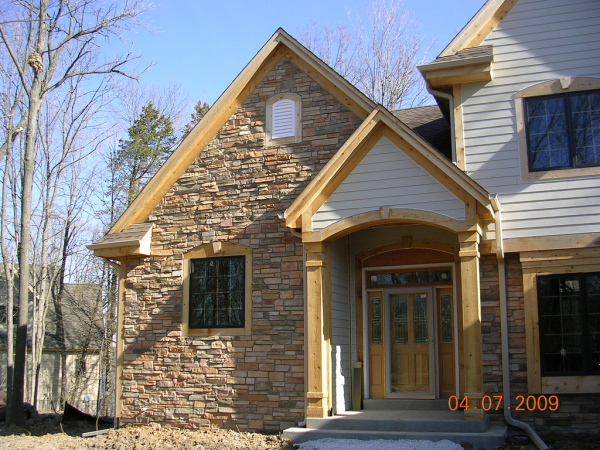 Sometime around the 400th fireplace surround our stonemasons built, it dawned on us: The stone veneer work we do on fireplaces can also be done on exterior and interior walls. When you visit our Waukesha fireplace showroom, you'll see what we mean.
Along with more than 20 working fireplaces built with cultured stone and natural stone veneer facing, we also have a few interior walls to give you an idea of what's possible when you take these materials beyond the fireplace.
Is There A Difference Between Stone Veneer And Cultured Stone?
Generally speaking, no. Stone veneer and cultured stone (aka "manufactured stone") are all different words for the same thing—a product that looks and feels like real stone but is actually made from a mixture of Portland cement, aggregate stone and iron oxide (for coloration). This makes it significantly lighter than real stone, and significantly less expensive.
The confusion comes when you throw "natural stone veneer" into the mix. As the words suggest, this is a veneer made with real stone, which is gathered from a quarry. It is usually offered in full thickness veneer (4" to 6") and thin veneer (1/2" to 1 ¼") and is cut into randomly shaped pieces.
Waukesha Stonemasons On Cultured Stone And Stone Veneer For Exterior Walls
Both natural stone and stone veneer products look fabulous in a wide variety of applications and, with proper sealing, will last many years. However, most of our customers choose to go with a stone veneer. Not only is it more affordable and lighter in weight, it is virtually indistinguishable from the real thing. Unless you are a geologist, it's unlikely you will be able to tell the difference between the stone veneer products we carry and the real thing. Also, the lighter weight of stone veneer products is recommended for most interior walls.
Some Of The Cultured Stone And Natural Stone Veneer Brands We Offer:
Cultured Stone ®
Cultured Stone® by Boral ® is a worldwide leader with over fifty years of experience in the manufacture of cultured stone products. By their estimates, they have produced over 750 million square feet of stone veneer products. Cultured Stone can be used on exteriors surfaces as well as inside for fireplaces and accent walls. The company backs these stones with a 50-year limited warranty.
All Cultured Stone products meet the stringent AC-51 criteria and are available in more than 21 textures and over a hundred different colors. Each veneer bears their trademark CSV (Cultured Stone Veneer) stamp to guarantee you are getting a genuine Cultured Stone product.
Eldorado®
Eldorado Stone manufactures a broad range of stone and brick veneers for use in fireplaces and walls--both indoors and out. The company has over 40 years of experience creating incredibly authentic looking stone products.
The Eldorado Stone line is extensive, encompassing a wide range of styles and colors, including river rock, limestone, ledgestone, fieldstone and more. The company prides itself on the believability of their products, and once you see them in person you'll understand why.
Dutch Quality®
Dutch Quality hails from the heart of Ohio's Amish country and offers an interesting fusion of craftsmanship with high tech production techniques. Their products can be used both indoors and outdoors, in everything from fireplaces and fire pits to both interior accent wall and exterior wall coverings.
The company molds their veneer stones from natural stones selected for their size and shape. They use a high quality latex blend to capture the most minute details of natural stone. Dutch Quality backs their manufactured stone products with a 50-year warranty against defects in materials, manufacturing and workmanship.
Proline®
Proline, a division of Norse Building Products, manufactures stone veneer products built to withstand harsh climates and look great for years to come. The company is based in southeastern Wisconsin, so they surely know a thing or two about harsh climates!
Pro-Line stone veneer products are precision molded to recreate the natural beauty of fieldstone, limestone, river rock, ledgestone and even castle rock. They all conform to the AC51 standard—a rigorous set of tests designed to assess the long-term durability of manufactured stone veneers—and carry a limited 50-year warranty.
Visit Our Showroom To See More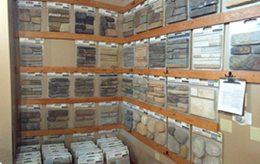 The best way to appreciate just how realistic these cultured stone products look is to see them in person at our Waukesha showroom. We have dozens of samples from the top manufacturers. Because we're always adding new products, there are a few lines in our store not listed here yet. So, it's a good idea to stop by.
To help you make sure the veneer you choose will work perfectly with your paint colors or other decor, you're welcome to check out a few sample boards to see what's going to look the best at your home or business. Our designers will be happy to help you coordinate colors. We want you to be 100% satisfied with your choice.
Contact our Waukesha stone veneer installers for more information or to request a free estimate on stone veneer work at your home or office.
Badgerland Fireplace Inc. provides the best fireplace installation, repair and maintenance services for homes and businesses in Southeastern Wisconsin including: Brookfield, Delafield, Waukesha, Milwaukee, New Berlin, Wauwatosa, Muskego, Mukwonago, Franklin, Menomonee Falls, Oconomowoc, Elm Grove, Brown Deer, West Allis, Pewaukee, Glendale, Greendale, Fox Point, Whitefish Bay, Shorewood, Greenfield, Oak Creek, Cudahy, River Hills, Saint Francis, Hales Corners, Sussex, Hartland, Big Bend, Eagle, and Butler.