Fireplace Inserts for Residents and Business Owners in Southeast WI
Badgerland Fireplace installs fireplace inserts in New Berlin, Brookfield, Sussex and throughout all of southeast Wisconsin. We install fireplace inserts for a wide range of residential and commercial customers who prefer an ambient fireplace with low maintenance over traditional wood-burning fireplaces.
Our Waukesha-based fireplace installers can install gas or electric fireplace inserts in both indoor and outdoor fireplaces, as well as indoor/outdoor see through
fireplaces. We are highly skilled at installing or replacing fireplace inserts in various types of fireplaces, including marble, granite, wood, brick and stone.
Badgerland Fireplace offers fireplace inserts (and fireplace accessories) from the most trusted names in the industry, including:
Heat N Glo
Heatilator
And more!
Why Would You Want A Fireplace Insert?
Wood burning fireplaces are great, but let's face it: they're a hassle and a half. Besides having to procure seasoned wood, you have to monitor the fire while it's burning and you have to clean up a hearth full of ashes when the fire is out. On top of that, you inevitably get a smoky smell in your living room.
Perhaps the biggest hassle of all, though, is that you have to plan on being home until the fire has gone out. There's no lighting a fire, getting it going, then deciding you're going to go out to do your grocery shopping. You absolutely cannot leave a fire unattended and you cannot just turn it off. Similarly, you can't turn in for the night with the fire still blazing.
Ah, but with a gas or electric fireplace insert you CAN! And that's precisely the appeal. Or at least part of the appeal. If you want to enjoy a fire while you're watching TV and then go to bed, it's as simple as turning it off. No worries about a fire starting while you sleep. And you don't have to buy seasoned firewood and lug it into your living room every time you want a fire.
Another great thing about a gas or electric fireplace: You're not losing most of the heat through your chimney, like you do with a wood burning fireplace. You get a solid 18,500 to 35,000 BTUs--more than enough to heat a medium to large sized room. And the cost works out to a very reasonable 37 cents per hour.
In years past, gas fireplaces were sorely lacking in the visual appeal offered by wood burning fireplaces. Today, though, gas fireplaces not only rival wood-burning fireplaces, they also offer unique interpretations of it. Besides remarkably realistic looking logs, there are also gas fireplaces available with stones or glass beads.
Pros and Cons of Gas Fireplace Inserts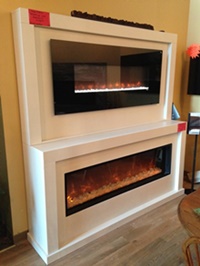 Pros
A fireplace insert gives off more heat than wood-burning fireplaces or gas log sets
Adjustable flame lets you control the amount of heat produced
Very energy efficient
Because the fire is behind fixed glass doors and the fireplace exhausts outdoors, there are none of the health or environmental concerns of wood-burning fireplaces and gas log fireplaces
Cons
Flame from gas fireplace isn't as realistic as wood-burning fireplace
Initial cost is higher than a gas log set
Two Types of Fireplace Inserts
Wood Inserts
Wood fireplace inserts allow you to burn firewood, while still conforming to EPA standards for a clean burning heat source. Unlike an open-burning fireplace, a wood insert doesn't suck the warm air in the room up the chimney. They are easy to install in an existing wood-burning fireplace, and because they include a firebox installation is much more cost-effective than rebuilding an existing fireplace in disrepair.
Gas Inserts
Gas fireplaces work well for both new construction and for retrofitting into an existing wood-burning fireplace. The convenience of being able to enjoy the warmth and glow of a fire at the flip of a switch is the most appealing feature of gas inserts. You can also adjust the temperature output. The realism of the gas log sets available today is amazing, but you can also choose from more modern glass or stone firebeds. There are direct vent gas fireplaces, up vent fireplaces (vertical venting to the roof) and vent-free prefab fireplaces. Per Wisconsin law, the vent-free type can only be installed in homes built prior to 1980.
Trust The Fireplace Pros At Badgerland Fireplace
If you're not sure which gas fireplace solution is best for you, our specialists can help you decide based on space, heat distribution, energy sources and budget requirements.
Whether you're looking for a brand new fireplace installation, a wood to gas fireplace conversion or you just need a fireplace insert replacement, Badgerland is the fireplace company all of southeast Wisconsin turns to for affordable and efficient expertise. Visit out Waukesha showroom to see the latest in fireplace designs and models.
Badgerland Fireplace Inc. provides the best fireplace installation, repair and maintenance services for homes and businesses in Southeastern Wisconsin including: Brookfield, Delafield, Waukesha, Milwaukee, New Berlin, Wauwatosa, Muskego, Mukwonago, Franklin, Menomonee Falls, Oconomowoc, Elm Grove, Brown Deer, West Allis, Pewaukee, Glendale, Greendale, Fox Point, Whitefish Bay, Shorewood, Greenfield, Oak Creek, Cudahy, River Hills, Saint Francis, Hales Corners, Sussex, Hartland, Big Bend, Eagle, and Butler.