Fireplace Cleaning & Maintenance for Southeast Wisconsin Residents
Milwaukee, WI Fireplace Cleaning & Maintenance Service Delivers 5-Star Treatment
Badgerland provides fireplace maintenance throughout Milwaukee, including Brookfield, Pewaukee, Delafield and surrounding areas. We cater to both residential and commercial fireplace customers throughout all of Southeast Wisconsin. Whether you need maintenance for gas, electric or wood-burning fireplaces, Badgerland Fireplace does it all.
Annual Fireplace Maintenance for Wisconsin Residents is a MUST For a Safe and Efficient Fireplace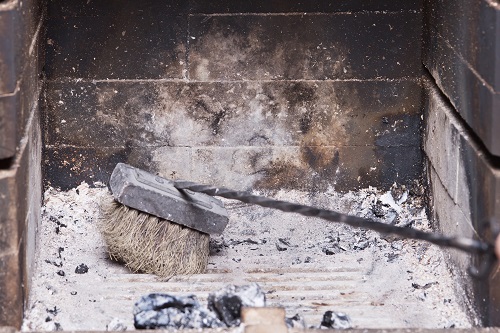 All gas fireplace manufacturers recommend yearly maintenance to ensure your fireplace is working safely and efficiently. We advise having this done every year in the summer, well before the heating season begins. There's always a last minute rush to get this done in the fall, so the sooner the better.
Don't take chances with the safety of your family and your home. Badgerland Fireplace makes it easy to keep the fireplace at your home or business clean and safe so when the weather turns cold you can sit back, relax and enjoy the ambiance of a beautiful fire.
Three Gas Fireplace Problems in Wisconsin You Can Avoid with an Annual Inspection
Blocked Vent
When a gas fireplace is in operation, the flame produces carbon monoxide. Gas fireplaces have a vent to an outside wall (or the roof) of your home to ensure any carbon monoxide goes outside. Over time, the vent can become obstructed and carbon monoxide can seep into your living room.
Known as the "silent killer," carbon monoxide poisoning causes drowsiness and headaches. Victims typically lie down because they feel bad, then die from a lack of oxygen. Unless you have a carbon monoxide detector, you won't even be aware it's in your house.
Another potential problem with a blocked vent is if you have a gas leak. Then, the flammable gas accumulates in your house. One small spark and kaboom!
Whether you have a natural vent gas fireplace (one that vents through a chimney) or a direct vent gas fireplace (one that vents through a pipe to the roof or an outside wall), an annual inspection is highly recommended to make sure it's not obstructed by something like a bird's nest, leaves or nuts stored at the exhaust by a squirrel (yes, it happens!).
Malfunctioning Components
If the valves, connections and other internal components of a gas fireplace aren't working properly, a gas fireplace can be extremely hazardous. One common failure point is the thermocouple. If it fails and the burners don't light when the gas and pilot light are on, the gas can ignite and shatter the glass door of the fireplace. An annual inspection will detect any problems and ensure both safe and efficient operation.
If you've moved into a house with an existing fireplace, we highly recommend having the fireplace inspected and serviced before using it. Unless you have a record of it being serviced within the past year, it's just too risky to use until you know for sure everything is working properly.
Worn Out and Dirty Components
Although gas fireplaces have a fixed glass door, they can still accumulate dust, pet hairs and soot on internal components. Ports can get clogged, thermopiles and thermocouples can get dirty or damaged, connections loosen, burners can become corroded, and the fireplace doors can loosen up over time.
One common problem is spiders building webs in the pilot tubes and on burners. Spiders get into these places because they're attracted to a chemical (Mercaptan) in the natural gas. Their webs can be dense enough to completely block gas flow to the pilot light or the burners. This usually happens with fireplaces that are only used occasionally and if the pilot light is shut off.
For Peace of Mind, Schedule Your Wisconsin Fireplace Inspection Today
An annual inspection of your gas fireplace, or any other type of fireplace, is the best way to make sure your fireplace is ready for winter. We do a thorough cleaning of the internal components and replace anything that needs replacing.
We recommend scheduling an inspection for late summer, before the last minute rush in the fall to get it done. Give us a call at 262-796-9999 to request a free quote.
What is included in an annual maintenance appointment?
Although the specifics of what is done varies depending on the fireplace or gas log set, this annual service generally covers the following:
Inspect vent line for obstructions, leaks and abnormally high carbon deposits
Check for any leaks in gas connections
Check gaskets for proper sealing
Clean lint and dust build-up on and around valves and controls
Clean the oxygen depletion sensor to keep it from getting too sensitive and causing nuisance shutdowns
Check pilot flame and adjust to factory specification
Adjust gas flow for best flame aesthetics and efficiency
Clean soot buildup off of glass fireplace door
For gas log sets: Remove logs and clean carbon build-up on logs and burner to ensure good flame quality and easy lighting.
Whether you need fireplace repair service in West Allis, a fireplace installation in Delafield, or fireplace maintenance in Brookfield, Badgerland Fireplace is Southeast Wisconsin's first choice for expertly done and affordably priced fireplace services.
Badgerland Fireplace Inc. provides the best fireplace installation, repair and maintenance services for homes and businesses in Southeastern Wisconsin including: Brookfield, Delafield, Waukesha, Milwaukee, New Berlin, Wauwatosa, Muskego, Mukwonago, Franklin, Menomonee Falls, Oconomowoc, Elm Grove, Brown Deer, West Allis, Pewaukee, Glendale, Greendale, Fox Point, Whitefish Bay, Shorewood, Greenfield, Oak Creek, Cudahy, River Hills, Saint Francis, Hales Corners, Sussex, Hartland, Big Bend, Eagle, and Butler.