Fireplace Design Consulting for Milwaukee and all of Southeast Wisconsin
Milwaukee Fireplace Design Consulting to Create Beautiful Custom Fireplaces to Suit Your Needs, Taste And Budget.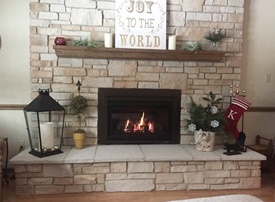 If you are dreaming of having a fireplace installed in your home or office, but having nightmares about what it will cost, a trip to Badgerland Fireplace is in order. Besides being able to see over 20 working fireplaces in our Waukesha fireplace showroom, you'll get expert advice on the different types of fireplaces available and which will work best for your décor and budget.
Based in Waukesha, Wisconsin, Badgerland Fireplace installs and services fireplaces, and fireplace inserts primarily throughout the greater Milwaukee area. We've been known to venture outside of our home turf, too. If in doubt about whether you're too far away or not, give us a call at 262-796-9999.
Fireplace Functionality
When it comes to functionality, your choice of fireplace depends on how much upkeep you want to deal with, how much heat output you desire and whether higher or lower utility bills are a factor for you.
If you don't want to deal with any sort of fireplace maintenance, your best choice will be an electric or a gas fireplace insert. The new generation of gas fireplace inserts look incredibly realistic and are equipped with quiet blowers to efficiently disperse heat throughout your room even with the gas flame safely behind a glass panel.
Fireplace inserts also allow you to have a fireplace installed in a part of your home or office where a traditional wood burning fireplace simply could not be built. While these inserts require a vent, just as fireplaces require a chimney, it doesn't have to be routed straight up through your roof. This allows much greater flexibility in where the fireplace insert is located in your home. The tradeoff for all this convenience is a slightly higher operating cost than wood burning fireplaces and wood stoves. It's not a significant difference, and it can vary depending on utility rate fluctuations and the cost of logs or pellets, but it's something to consider.
If you value heat output and energy savings over ease of maintenance, you will likely prefer one of the new pellet burning heaters. These heaters are available in a range of styles--from the traditional look of a wood stove to thoroughly modernistic. The amount of heat generated is, in many cases, sufficient to heat an entire house. The drawback, of course, is that you have to procure proper fuel (the pellets) and clean out the ashes from your fire. Also, there's no flicking a switch and putting it out for the night when you're ready to step out or go to bed. So, they're not nearly as convenient as a gas fireplace insert.
No matter what your priorities, our Milwaukee fireplace designers will help you find the perfect solution for your home or office.
Fireplace Design Aesthetics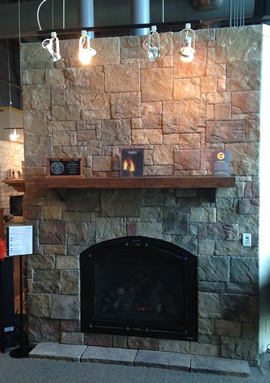 If your fireplace is going to play a starring role in a living room, den or office lobby, then aesthetics may be more important than heat output. Our experienced Waukesha fireplace installers can help you find the right balance between aesthetics and performance.
When you meet with our fireplace designers, we'll discuss the style and décor of your home and show you some samples of working fireplaces in our showroom. We'll also help you explore different options for materials to find those best suited to your tastes and your budget. Badgerland Fireplace offers a wide array of choices, including brick, wood, tile, marble and cultured stone. The range of colors, sizes, styles and price ranges is almost endless.
When you want to create a statement fireplace at an affordable price, turn to our fireplace designers. We'll help you design your dream fireplace at a price you can afford.
Affordable Fireplaces
Our Waukesha fireplace designers realize almost everyone has budget restrictions. Unlike some fireplace companies in Milwaukee, we discuss your budget up front to ensure you get a great fireplace without going over budget. The only surprise when we're done is how fabulous your new fireplace looks.
When you work with Badgerland Fireplace, we'll help you determine where you can cut corners without cutting quality and what materials are going to be most cost-effective to achieve the look you desire. There are so many options with materials, size and type of the fireplace, brand and accessories, you really have to come by our Waukesha fireplace showroom and see for yourself.
The Fireplace Company Milwaukee Trusts for Affordable Industry Expertise
If you are considering a custom fireplace installation in your home or business, turn to the fireplace design and installation team at Badgerland Fireplace. We work with you to ensure you get the fireplace of your dreams at a price you can afford.
Badgerland Fireplace Inc. provides the best fireplace installation, repair and maintenance services for homes and businesses in Southeastern Wisconsin including: Brookfield, Delafield, Waukesha, Milwaukee, New Berlin, Wauwatosa, Muskego, Mukwonago, Franklin, Menomonee Falls, Oconomowoc, Elm Grove, Brown Deer, West Allis, Pewaukee, Glendale, Greendale, Fox Point, Whitefish Bay, Shorewood, Greenfield, Oak Creek, Cudahy, River Hills, Saint Francis, Hales Corners, Sussex, Hartland, Big Bend, Eagle, and Butler.