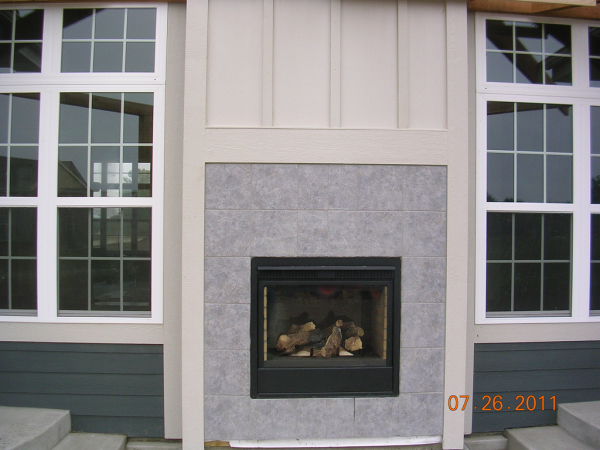 Southeast Wisconsin's Premier Outdoor Fireplace Installation Company
Types of Outdoor Fireplace Installations
Badgerland Fireplace offers fireplace services in Southeast Wisconsin, including outdoor fireplace installations. We install timeless outdoor fireplaces for all-season enjoyment. Rely on our craftsmanship for stunning masonry fireplaces made of natural Wisconsin stone that instantly become a striking backyard focal point.
Outdoor Wood Burning Fireplace Installation
At Badgerland Fireplace, we design and install beautiful wood-burning fireplaces that become the heart of your outdoor space. Choose from masonry chimney constructions made of natural stone or brick, or opt for a prefabricated wood-burning unit for faster installation. All our wood fireplaces feature durable steel construction and fireboxes made from heat-resistant fire brick or refractory materials. Our team handles the entire installation process - from framing the enclosure to connecting the chimney. We can customize wood-burning fireplaces with cooking grilles and adjustable air vents to maximize usability. Keep your fire glowing safely all season with the proper maintenance of ash removal and chimney cleaning. For an authentic firewood-burning fireplace to enjoy for decades, trust the experts at Badgerland Fireplace.
Gas Burning Fireplaces for Outdoors
Badgerland Fireplace offers luxury gas-burning fireplaces for your outdoor living area. Simply turn on the gas and enjoy the ambiance of rolling flames with the push of a button. Our selection includes vented and ventless models fueled by natural gas or propane. Choose from a variety of realistic log sets and attractive media beds like crushed glass or stones. With variable flame heights and high-quality stainless steel or stone surrounds, our gas fireplaces blend beauty and convenience. Trust our technicians to properly install your gas fireplace according to local codes, ensuring optimal safety. Light up your evenings outdoors with the coziness of a gas fireplace expertly designed and installed by the pros at Badgerland Fireplace.
Outdoor Fire Pit Installation
Gather around the glow of Badgerland Fireplace's custom-built fire pits. Choose from wood burning or gas ignition and select your preferred shape - round, square or rectangular. Our fire pits are constructed from long-lasting materials like steel, concrete, and stone to withstand years of use. For permanent backyard installations, we create striking masonry fire pits integrated seamlessly into the landscape. Trust our expertise in designing the ideal backyard fire pit tailored just for you. Badgerland Fireplace creates spaces for meaningful connections around the fire.
Outdoor Fire Table Installation
Badgerland Fireplace designs stunning fire tables to ignite conversation and connection. Our artisan craftsmen construct elegant focal points that combine form and fire for your patio or backyard. Choose from wood burning or gas ignition and select your shape - rectangle, circle, or square. With durable thick-gauge steel or concrete bases housing the firepit, our tables withstand the elements while providing a cozy ambiance. Tempered glass tops safely enclose the flames while reflecting entrancing light. Integrated storage compartments keep propane tanks or firewood out of sight but close at hand. Our movable fire tables on lockable casters can be repositioned wherever the mood strikes. Trust Badgerland Fireplace's custom fire tables to create an irresistible backdrop for outdoor memories.
Wood Burning Fireplace with Gas Starter Installation
The best of both worlds - Badgerland Fireplace's wood-burning fireplace with gas starter ignition eliminates the frustration of starting a fire manually. With the push of a button, convenient gas flames ignite kindling and logs. Once the natural wood takes over, the gas source extinguishes. Enjoy the allure of real wood fires without hassling with starter blocks or newspapers. Our gas starter fireplaces allow you to reliably restart embers anytime. The electronically controlled gas valve system provides worry-free lighting every time. Customize with variable flame heights and programmable thermostats to dial in your ideal temperature. Get a fire going in seconds while still burning renewable firewood with Badgerland Fireplace's innovative gas-assist wood-burning fireplaces.
Outdoor Fireplace FAQs
1. How long does installation take?
For a typical built-in masonry fireplace, installation takes 4-6 weeks total, but this depends on seasonal demand. This allows proper time for site preparation, footing construction, framing, chimney building, masonry work, curing, and finishing. Prefabricated fireplaces can often be installed in 2-3 weeks.
2. Do you offer both masonry and manufactured fireplaces?
Yes, we are fully experienced in the installation of both traditional masonry fireplaces, where we build on-site from stone or brick, as well as prefabricated modular fireplaces that are brought to the location ready for positioning and finish work.
3. What fuel/ignition options are available?
We offer the flexibility to choose between classic wood-burning fireplaces fueled by renewable firewood or convenient gas fireplaces that can be ignited instantly with the push of a button when plumbed to natural gas or propane.
4. Is ongoing maintenance required?
While masonry fireplaces are incredibly durable, we do recommend periodic inspection, cleaning out of ash, re-sealing, chimney sweeping, and minor repairs as needed to maximize the longevity and performance over decades of use.
5. Can you install fireplaces on uneven surfaces?
It is best to install an outdoor fireplace on an even, hardened, and noncombustible surface. Uneven surfaces shift over time and affect the longevity of your installation.
6. How far away from the house should an outdoor fireplace be?
At a minimum, there should be 10 to 20 feet between your home and the outdoor fireplace. The further away the better.
7. Are outdoor fireplaces built into the hardscape design or freestanding?
Outdoor fireplaces can be either built into the hardscape design, where they are seamlessly integrated into the overall outdoor space, or they can be freestanding, serving as standalone features in the outdoor area.
Badgerland Fireplace Inc. provides the best fireplace installation, repair and maintenance services for homes and businesses in Southeastern Wisconsin including: Brookfield, Delafield, Waukesha, Milwaukee, New Berlin, Wauwatosa, Muskego, Mukwonago, Franklin, Menomonee Falls, Oconomowoc, Elm Grove, Brown Deer, West Allis, Pewaukee, Glendale, Greendale, Fox Point, Whitefish Bay, Shorewood, Greenfield, Oak Creek, Cudahy, River Hills, Saint Francis, Hales Corners, Sussex, Hartland, Big Bend, Eagle, and Butler.