Heat & Glo Gas Stove with Boulder Creek Stone Veneer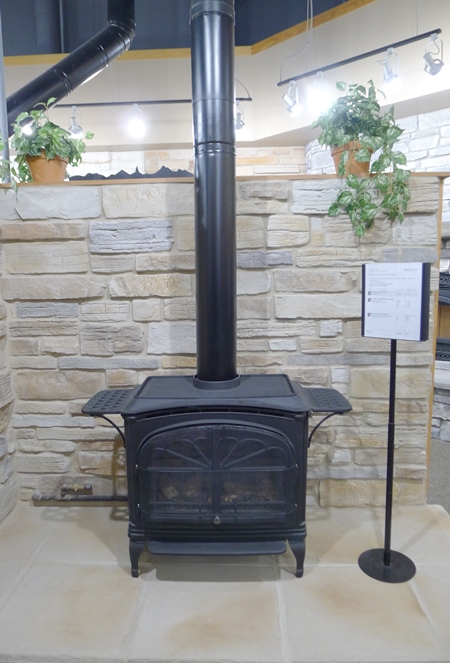 Heat & Glo Tiara II Gas Stove with Boulder Creek Stone Veneer at our Waukesha showroom
At first glance, you'd swear it's a cast iron wood stove. Well, that's close. It's actually a cast iron direct vent gas stove. We set up this stove in our showroom specifically for those looking to replace a gas stove, but not knowing what to do with the space in their home where the wood stove sits.
The Tiara II brings the classic style of a cast iron wood stove into the 21st century. Heat & Glo's direct vent gas heater technology expels 100% of the exhaust and fumes from your home while providing optimal heat (26,000 to 37,000 BTUs)-- enough to heat a 1,000 to 1,700 sq. feet room. If you've ever had to split and haul logs to a woodstove, then clean out ashes, you're going to love making the switch to a gas stove.
The Tiara stove includes a realistic set of logs and a mesh safety barrier screen to protect against accidental contact with the glass front of the stove, which gets dangerously hot. The Tiara comes in three colors: Matte Black, Cocoa Brown or Espresso. If the Tiara II is too much for your space, Heat & Glo has two smaller models—the Tiara I and the Tiara Petite.
As for the gorgeous wall in the background, it's a natural stone veneer from Boulder Creek Stone. This is their "Fond du Lac" Weather Edge veneer with Dutch Tan hearth stones. The light colored grout ("Linen") blends well with the pastel variations in the veneer.
Our showroom installations change on a regular basis, but we usually try to keep one or two gas wood stoves like this on display. Stop by and have a look.