The Best Fireplace Company In Milwaukee Is Actually In Waukesha
Waukesha Fireplace Installation And Service Experts For All Your Fireplace Needs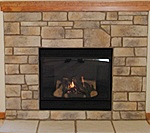 Badgerland Fireplace Inc. is your #1 resource for fireplaces and related services. Your fireplace is often the key feature and focal point of the living room, den or patio. We understand the importance of having the perfect style and fit fireplace, whch is properly installed and well-maintained.
Whether you are using your fireplace to heat your home regularly or you use it to entertain guests, it must function safely and with optimal performance, as well as look appealing, relaxing and mood-setting.
Visit our Waukesha fireplace showroom to get incredible fireplace design ideas, and see the many options we have available. We have 23 burning fireplaces displayed with a number of facings in tile, marble, stone and brick. We also have Waukesha fireplace installation experts on hand to help you with your decision making and provide you with all the information you need to make the best choice for your home.
Milwaukee's Source For Superior Fireplaces and Cultured Stone Veneers
Badgerland Fireplace Inc. carries a wide range of brands to ensure your fireplace needs are fulfilled. The primary brands we carry include Heatilator, Heat&Glo and Quadrafire fireplaces, inserts and gas log sets.
We carry other top brands too, such as Majestic fireplaces, Vermont Castings wood stoves, Design Specialties fireplace glass doors, R.H Peterson gas log sets and Wilkening wood inserts. We also carry superior stone brands like Cultured Stone, ProStone, El Dorado, Dutch Quality and Proline, with full time stone veneer masons always ready to provide professional, local fireplace installation services.
You may be thinking this sounds expensive. Amazingly, however, our prices are surprisingly affordable. Of course, the more elaborate a fireplace is, the greater the cost. But it is possible to have a beautiful fireplace at a very reasonable cost. Why not take advantage of our free quote offer to find out for yourself?
Fireplace Services in Milwaukee and Surrounding Areas
Badgerland Fireplace Inc. is dedicated to your complete satisfaction from your first visit to our showroom to the day your fireplace is completed. Our service doesn't stop when your fireplace is finished. We also offer professional fireplace, pellet stove and woodstove repair and maintenance services. Even if we didn't install your fireplace, we can maintain or repair it for you.
We provide service and professional fireplace installations in Milwaukee, Waukesha and the surrounding areas. If you're not sure if you are in our service area, give us a call and ask. Some of our customers are definitely not in the immediate area, so you may be surprised.
If you're considering having a fireplace built or a fireplace insert replaced, start by taking a look at some of the fireplaces in our Wisconsin fireplace design photo gallery. Then, stop into our local fireplace showroom in Waukesha, where we have over 20 fully functioning fireplaces on display.
In Milwaukee, Fireplaces Make Winter Less Miserable And Heating Bills More Reasonable

Winter always comes sooner than we expect. And no one is ever ready for the high heating bills that come with winter. Besides improving the ambiance of your home, having a fireplace installed can help you save on energy costs while still keeping your home comfortably warm. Wood burning stoves, pellet stoves and gas burning fireplaces can all help you stay nice and cozy all winter long.
Professionally designed and installed fireplaces add value to your home, provide the perfect amount of warmth and bring charm to any room--even rooms in offices. Check out our Waukesha fireplace showroom to see a variety of functioning fireplaces and learn which type of fireplace will work best in your setting. If you're just looking for a ballpark figure on what a fireplace will cost, you can also give us a call at 262-796-9999.
Contact our Milwaukee fireplace installation department today to get a FREE quote on a new fireplace!