Milwaukee Fireplace Questions Answered
Q: Is it OK to shut off the pilot light for the summer months?
A:
If you're not planning to use your fireplace over the summer, it's perfectly fine to shut off the pilot light--and it will save you a little money on your utility bill. Just remember to relight the pilot light in the fall.
Q: What is the "pinging" sound coming from my fireplace?
A:
Gas insert fireplaces are build with different gauges of steel, which expand and contract at differing rates when the fireplace is turned on and when turned off. What you're hearing is the metal expanding and contracting from heating up or cooling down. It's nothing to worry about.
Q: How Do I Relight the Pilot Light on my Heatilator fireplace?
A:
Heatilator put together this video explaining how to relight the pilot light on their fireplaces. If you have any questions, don't hesitate to call us.
Q: What do you recommend for cleaning the glass door on my fireplace?
A:
There are two fireplace glass cleaners made by Rutland that we recommend (and offer for sale at our store):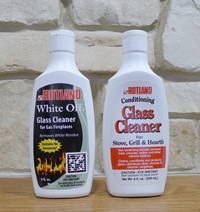 As far as cleaning the glass on your fireplace, it's extremely important to clean the glass after the first 3 hours of use. If you don't, the glass can become permanently etched.
1. Do not attempt to clean the glass if you've recently used the fireplace. The glass has to be completely cool. You should also turn off the gas before starting work.
2. Consult your owner's manual for instructions on how to remove the front face or louvers on your fireplace. This can almost always be done without any tools. Then carefully remove the glass panel and place it on a soft, non-scratch surface.
3. Using a soft cloth, clean both sides of the glass with an ammonia-free household glass cleaner.
4. If the glass won't come clean, you can use Rutland White Off Glass Cleaner (for gas fireplaces) or Rutland Conditioning Glass Cleaner (for wood burning fireplaces). Do NOT use a scrub pad, razor blade, or any kind of abrasive cleaner. These can all make scratches in the glass, which can cause it to shatter when you use your fireplace.
5. After cleaning, replace the glass on the fireplace. Make sure the glass assembly and front of the fireplace are securely attached.
After the initial cleaning, you should clean your fireplace door once per year—although if you use your fireplace a lot it may need more frequent cleaning.
Q: Do Gas Fireplaces Require Any Maintenance?
A:
Unlike wood burning fireplaces, gas fireplaces don't require a yearly cleaning to remove built up creosote inside the chimney. However, they aren't entirely maintenance-free, and an annual inspection is necessary. A poorly maintained gas fireplace can be result in a fire, carbon monoxide poisoning or even an explosion. The most common problems with gas fireplaces are a blocked vent, malfunctions of internal mechanisms, and worn out or dirty components.
For more information on gas fireplace maintenance, see our Fireplace Maintenance page.
Q: How do direct vent fireplaces work?
A:
Unlike traditional wood burning fireplaces, direct vent fireplaces are sealed with a glass door. To enable combustion of the natural gas fueling them, they draw in outside air through an intake pipe. Carbon monoxide and other combustion byproducts are expelled outside through another pipe.
Since no air from inside your home is drawn into the fireplace, the warm air in your home doesn't go up the chimney—as it does with a wood-burning fireplace. Direct vent fireplaces have efficiency ratings in the 70 to 90% range.
One of the many advantages of a direct vent fireplace is that it can be vented horizontally through a wall or vertically. They are also ideal for zone heating in areas of the house that tend to stay colder than other areas, like basements, as well as for additions which may lack HVAC venting for the heating system.
Q: What is the most affordable fireplace I can get?
A:
We'd recommend an electric fireplace insert. Since it doesn't need to vent outdoors, it's a great choice for installing in a nonfunctioning chimney or in a pre-built hearth which can easily be installed just about anywhere in your house. These fireplaces provide enough heat to feel cozy when you're sitting within 10 feet of them, although the "flames" will obviously lack the realism of a gas or wood burning fireplace. Total cost, including installation, runs from $500 to $1,500.
Q: Is smoke from a wood-burning fireplace hazardous?
A:
While occasional exposure to the small amount of smoke produced by a wood-burning fireplace isn't likely to kill anyone, there is evidence to suggest it probably isn't particularly healthy--particularly if you regularly heat your home with a fireplace. It has been shown that the smoke from firewood contains benzene, formaldehyde and polycyclic aromatic hydrocarbons, all of which are classified as possible carcinogens by the Centers for Disease Control and Prevention (CDC). If you rely on a wood-burning fireplace as a primary source of heat, our best advice is to use properly dried hardwoods for fuel. Green woods and those that aren't completely dried will product more smoke than a kiln-dried or properly aged hardwood.
Q: Will mounting a TV above my fireplace cause damage to the TV?
A:
Most of the heat from a fireplace goes up an exhaust or is blown out into the room, so it's usually not a problem. To be safe, though, we recommend the TV be mounted at least 10" above the fireplace. Even better, a mantel below the TV helps disperse any rising heat from the fireplace.
Before mounting a TV above a fireplace, it's a good idea to check the warranty on your TV to make sure the manufacturer doesn't state the warranty is void if the TV is mounted above a fireplace. Even if a TV develops problems unrelated to it being mounted above a fireplace, the manufacturer may disallow any warranty claim if their warranty excludes coverage for a TV mounted above a fireplace.
Q: Can stone veneer be installed over a brick fireplace?
A:
Yes, if you have a brick fireplace, stone veneer can be applied over it (as long as it is unpainted brick and not a smooth-surfaced brick). If the brick is not suitable for the base layer of mortar that needs to go over it, we simply install metal lath over it and then proceed with a layer of mortar for the veneer.
Waukesha Fireplace Installation Experts Answer Commonly Asked Questions
Choosing the perfect fireplace can be difficult. Especially with so many things to consider when making your decision. Our Waukesha fireplace experts at Badgerland Fireplace Inc. are here to help you make an educated choice for your new fireplace. On this page, we've answered some of the most common questions we get. If you have a question you don't see answered here, or would just like more information, don't hesitate to contact us at 262-796-9999. Our friendly staff will be happy to help in any way we can.
Contact Badgerland Fireplace Inc. today for more information about fireplace installation services in Milwaukee, Waukesha and the surrounding areas.