Steps to Convert Your Wood Fireplace to a Gas Insert
If you have an old wood-burning fireplace or stove, you have likely considered converting the fireplace into a gas insert. Our advice — do it! Gas fireplaces are safer and more convenient. In a few short steps, you can have your gas fireplace on its way for installation.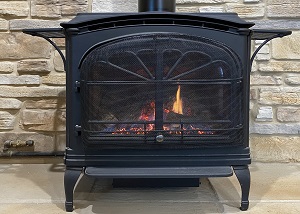 1. Start by inspecting your chimney
Make sure your chimney is clean and fully functional for a gas fireplace. A professional chimney sweep will cost around $100-$150. If your home doesn't have a natural gas connection, and it's available in your area, expect to pay $200-$1000 to have a gas line installed.
2. Measure your existing fireplace opening

Determine what size insert you'll need by measuring the dimensions of your fireplace opening.
3. Send us a picture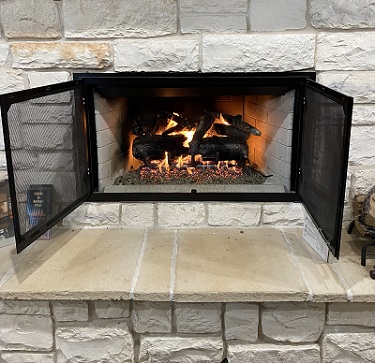 Snap a photo on your phone and send it over to us via the contact form or email. The photo will help us determine what type of insert and style will work best for your home.
We'll contact you within 2-3 business days with a quote!
Pros of Gas Fireplaces
The convenience of enjoying the warmth of a fire at the flip of a switch

Adjustable temperature output

Choice of realistic log sets or modern glass & stone fire beds

No ash cleanup required
Three Wood-to-Gas Conversion Options:
1. Gas Logs
The easiest type of wood-to-gas fireplace conversion. Gas logs sit inside your existing fireplace and have a gas burner. They come in vent-free and vented options. Vented gas logs send the heat up the chimney while vent-free logs vent all of the heat and exhaust into the house. Gas logs are typically more for looks than warmth.
2. Gas Inserts

Gas inserts are retrofitted wood-burning fireplaces that use gas to heat the air inside the fireplace and emit the heat into the room. They are much more efficient and easier to manage than wood-burning fireplaces while also being just as productive. They are much more realistic than a gas log set. Gas inserts are the middle-priced option of the three.

Choose from Direct Vent Fireplace, Up-vent Fireplace, or Vent-Free Fireplace:
Vent-free fireplaces produce the most heat but are outlawed in some states due to their tendency to introduce unburned combustibles into your home that may affect people with allergies and asthma. Note that ventless fireplaces can only be installed in WI homes built prior to 1980.

Direct vent fireplaces use the chimney to vent the fire's byproducts and most closely resembles a real-life fire. Direct vents are typically vented horizontally, directly through the walls to the outdoors.

Up-vent fireplaces are direct vents that are routed vertically through the roof.
3. Built-in Gas Fireplace
Built-in gas fireplaces don't require an existing chimney or fireplace to be installed. Similar to gas inserts, you can choose from ventless or vented fireplaces. Vented fireplaces expel heat through the wall. Gas fireplaces can be the most ornate and customized of the three types but are also the most expensive gas fireplace to install.

FAQ
Is a wood-burning fireplace better than gas?
Natural gas and propane are relatively clean-burning fuels compared to wood. Gas fireplaces are better for the environment and are more convenient.
Are gas fireplaces more efficient than furnaces?
Gas fireplaces are more efficient than furnaces because heat is not lost through ductwork. However, a fireplace will only heat one or two rooms instead of the entire house.
How much does a gas insert cost?
Gas inserts cost between $2,000 to $7,500 depending on installation complications.
Are ventless fireplaces legal in Wisconsin?
Vent-free gas-burning fireplaces can only be installed in Wisconsin homes built prior to 1980. State-by-state laws vary for ventless fireplaces. Ventless gas fireplaces emit a lot of water vapor and combustibles into the air which can cause mold growth, structural damage, allergies and asthma problems.
Are fumes from gas fireplaces harmful?
Gas fireplaces are cleaner than traditional wood-burning fireplaces. They can still pollute indoor air quality if not properly vented. Toxic gases including carbon monoxide and nitrogen dioxide are emitted from gas fireplaces.
Contact Badgerland Fireplace today to convert your wood-burning fireplace to a gas fireplace.
Badgerland Fireplace Inc. provides the best fireplace installation, repair and maintenance services for homes and businesses in Southeastern Wisconsin including: Brookfield, Delafield, Waukesha, Milwaukee, New Berlin, Wauwatosa, Muskego, Mukwonago, Franklin, Menomonee Falls, Oconomowoc, Elm Grove, Brown Deer, West Allis, Pewaukee, Glendale, Greendale, Fox Point, Whitefish Bay, Shorewood, Greenfield, Oak Creek, Cudahy, River Hills, Saint Francis, Hales Corners, Sussex, Hartland, Big Bend, Eagle, and Butler.