Mantels, Surrounds and Shelves
Your Waukesha Source For Heatilator and Heat & Glo Mantels, Surrounds and Mantel Shelves
From traditional to modern, Heatilator has a style to complement your home or office. While any of these Heatilator mantels will look great against a finished drywall backdrop, a custom stone veneer surround installed by Badgerland Fireplace takes any fireplace to another level.
Wood Fireplace Mantels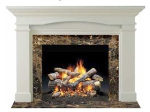 The great thing about Heatilator and Heat & Glo wood fireplace surrounds and mantels, besides the fact they integrate perfectly with Heatilator and Heat & Glo fireplaces, is the broad range of styles to suit any décor. What's more, they can be painted or stained for a totally unique look.
If you are looking to maximize space, Heatilator and Heat & Glo mantels also offer the versatility of corner mount units. All models are available in primed MDF (ready for you to paint as you please), unfinished oak or unfinished maple.
Badgerland Fireplace also offers custom-made wood fireplace mantels. Our carpenter can create a mantel from virtually any wood to fit virtually any fireplace installation. We usually have several of these custom-made mantels on display in our Waukesha showroom. Stop by and have a look.
Concrete Mantels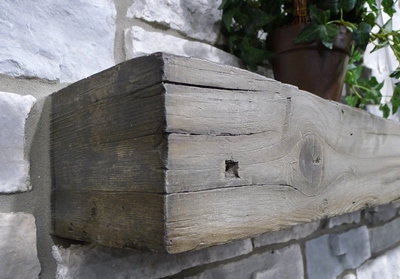 See that barn beam mantel in the photo to the right? It's not a barn beam at all. It's actually a concrete mantel by MagraHearth Mantels.
Made from lightweight, fiber-reinforced concrete molded from actual wood beams, these non-combustible mantels allow for closer placement to a fireplace than conventional wood mantels. They're ideal for diverting heat away from a large screen TV or artwork mounted above the fireplace.
The rough hewn texture of this mantel is a perfect match for a stone veneer fireplace surround. MagraHearth has several different styles of rustic mantels, as well as smoother finished mantels and a Chiseled Stone Series. They all look fantastic.
We usually have a couple of concrete mantels on display in our showroom. If you come by, we'll point them out for you. The level of detail is so realistic, it's the only way you'll be able to tell them apart from the wood mantels.
What's Your Style?
Heat & Glo Wood Mantels Available Through Badgerland Fireplace in Waukesha
| | | |
| --- | --- | --- |
| | | |
| Heat & Glo "Acadia" Wood Mantel | Heat & Glo "Battlefield" Wood Mantel | Heat & Glo "Bellevue" Wood Mantel |
| | | |
| Heat & Glo "Portico" Wood Mantel | Heat & Glo "Richland" Wood Mantel | Heat & Glo "Roxborough" Wood Mantel, Caledonia Granite |
| | | |
| Heat & Glo "Wescott" Wood Mantel, Green Granite | Heat & Glo "Kenwood" Corner Mantel, no base | Heat & Glo "Kenwood" Corner Mantel, with base |
| | | |
| Heat & Glo "Kenwood" Wood Mantel, Absolute Black | Heat & Glo "Kenwood" Wood Mantel, Marron-Brown Marble | Heat & Glo "Kenwood" Wood Mantel, Wheatfield Granite |
Cast Stone Mantels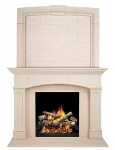 If you like the classic, stone fireplace look, Heatilator has a cast stone fireplace surround for you. With names evoking some of the grandest buildings in America, the three fireplaces in this line make quite a statement. Your home will never feel more like a castle than when you're sitting in front of one of these fireplace mantels.
What Exactly is Cast Stone, Anyway?
Good question.
Cast stone is a synthetic stone made from a blend of Portland cement, water, sand, crushed stone and pieces of granite, marbles and blast-furnace slag. It is poured into molds, then cut into a variety of shapes and sizes. Through a variety of manufacturing techniques, cast stone can be made to resemble granite, sandstone, travertine and other natural stone. In fact, most people cannot tell the difference between cast stone and natural stone.
Trim Panels
Heatilator offers pre-cut stone trim panels (also known as filler panels) to work with any of their wood mantels. You can choose from marble, granite and slate in a variety of colors to complement almost any color scheme. If you start feeling overwhelmed by all the possibilities, one of our experienced fireplace designers can help you sort through it all and come to a decision you won't regret.
Mantel Shelves
In addition to complete fireplace mantel and surround kits, Heatilator also offers mantel shelves. These are designed to be mounted to the wall above a fireplace insert to create a modern interpretation of the hearth. Heatilator offers three models with shelf depths ranging from 8" to 12." They are available in primed MDF, unfinished oak and unfinished maple.
Heatilator Fillmore Mantel Shelf
Heatilator Gifford Mantel Shelf
Heatilator Ozark Mantel Shelf
Custom-Made Wood Fireplace Mantels
Badgerland Fireplace also offers custom-made fireplace mantels. Our master carpenter can create virtually any type of mantel you can envision. You can finish the mantel yourself with stain or paint, or have us do the finish work for you. We have several custom-made fireplace mantels on display in our showroom. Come by and ask us to point them out for you.
For more information on fireplace mantels and mantel shelves available at Badgerland Fireplace, visit our Waukesha showroom or contact us online.