Heat & Glo Cerona 42 Gas Fireplace Installation in our Waukesha Showroom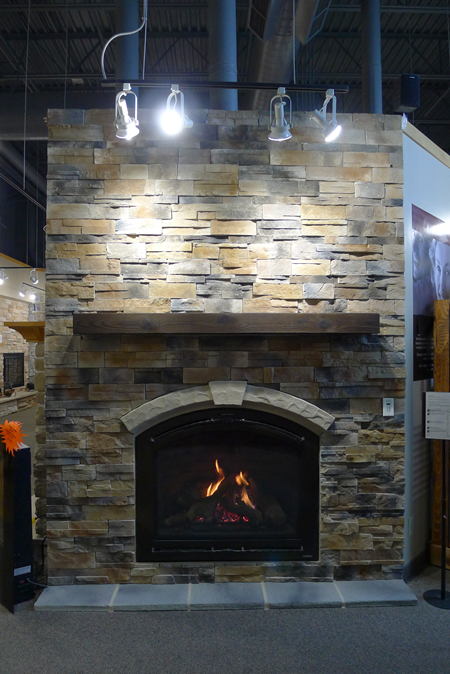 Heat & Glo Cerona 42 Gas Fireplace Installation in our Waukesha Showroom
There's only one way to describe a fireplace like this. "Wow!" You're looking at a Heat & Glo Cerona direct vent gas fireplace with a floor to ceiling stone veneer surround. This Cerona has a BTU rating of 32,000 to 48,000 BTUs, which is sufficient to heat a 1,200 to 2,000 sq. ft. room.
The gorgeous stone veneer you see here is made by Dutch Quality, an Ohio-based manufacturers of high-grade stone veneer products. This is their "Dry Stack" veneer, which gives the look of intricately stacked natural stone with no grouting. The earthy color is "Sienna." At the base of this fireplace is a row of their gray hearthstones, which complement the gray tones in the veneer.
This installation features a couple of finishing touches well worth considering-- a cast arch above the fireplace and a mantel made from burnt pine. Both really add to the look of this fireplace. There are plenty of arch and mantel options available, though, so if these don't work for you something else will.
If you're looking into adding a fireplace to your home, or getting a makeover on an existing fireplace, stop by our Waukesha showroom. We have over 20 working fireplaces with a variety of stone, brick and granite surrounds. It's a great way to get inspired and gather ideas. We can also provide you with an estimate for having a fireplace installed.