Heat & Glo Everest Vertical Fireplace Installation in Waukesha Showroom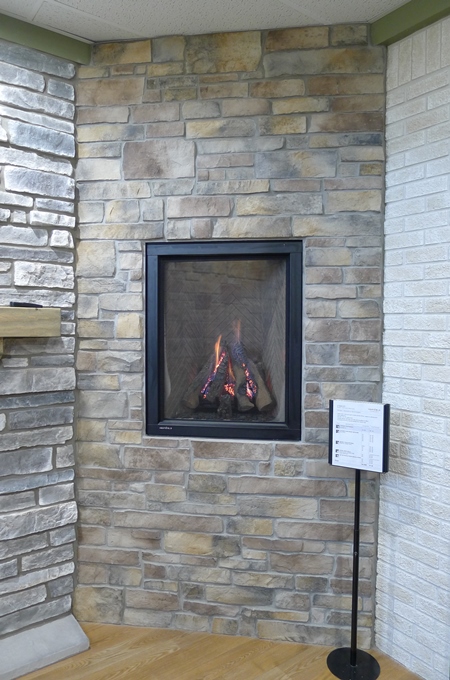 Heat & Glo Everest Direct Vent Gas Fireplace Installation in our Waukesha Showroom
This in-wall fireplace from Heat & Glo is a fresh take on the traditional hearth. Their Everest fireplace has a vertical orientation and is designed to be mounted at eye level, like a picture frame, for maximum visual appeal. An innovative burner design produces flames from inside the log set, adding to the realism.
With an output of 23,000 to 33,000 BTUs, the Everest direct vent gas fireplace produces ample heat for a small room of 600 to 1,000 sq. ft. Heat & Glo's IntelliFire™ Ignition System continually monitors ignition to ensure safe operation, while also conserving up to $10 per month in energy costs. The included wireless remote control is easy to program and operate, so enjoying a warm fire is as easy as pushing a few buttons.
The installation shown here features a stone veneer wall from Pro-Line Stone Veneer ("Stillwater Ledgestone") with a light gray mortar. Badgerland Fireplace carries the full line of accessory pieces for Pro-Line, including matching hearth stones, lintels, keystones and even utility boxes for framing the in-wall controls. We change out our showroom displays from time to time, but if this fireplace isn't there you can be certain another one built with Pro-Line Stone Veneer will be.
Whether you're looking to add a fireplace where none exists or getting a makeover done on an old fireplace, Badgerland Fireplace is your Milwaukee area source for all things fireplace. Design, installation, repair—we do it all. From gas log sets and mantels to Heat & Glo and Heatilator direct vent gas fireplaces, we carry the best in the business. Contact us online for a free estimate, or call 262-796-9999