Heat & Glo Fireplace with Boulder Creek Stone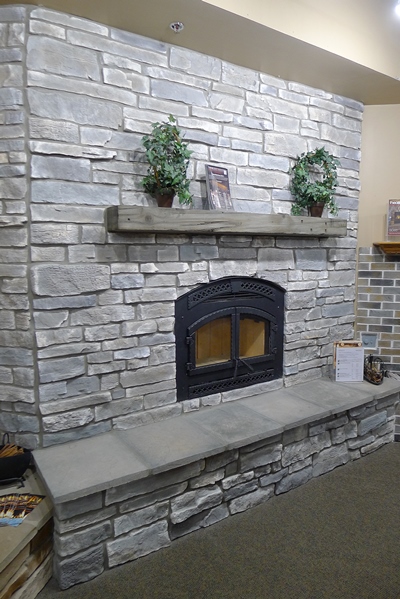 Heat & Glo Northstar Wood Fireplace with Boulder Creek Stone Surround
This fireplace installation in our Waukesha showroom features a Heat & Glo Northstar wood fireplace and a gorgeous natural stone veneer from Boulder Creek Stone (Southeast Ledgestone in Misty Gray with a light gray mortar.
The Northstar fireplace is an extremely efficient fireplace rated at 74,900 BTUs—enough to heat a 1,000 to 2,600 square feet space. It can hold logs as long as two feet in length and provides up to 10 hours of burn time. It's EPA-certified, too, with exceptionally low emission levels of just 3.25 grams per hour.
If you're wondering about the great looking barn beam mantel, it's actually not a barn beam. It's a concrete mantel by MagraHearth. They mold these with actual barn beams and the result is virtually impossible to distinguish between the real thing. Stop by our Waukesha showroom and see for yourself.