Green Mountain Grills
Pellet Grills Available in Waukesha at Badgerland Fireplace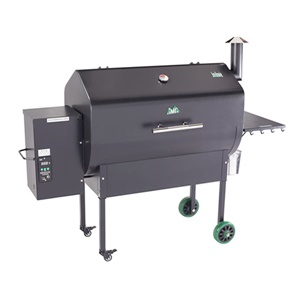 The Jim Bowie model pellet grill from Green Mountain Grills, available in Waukesha at Badgerland Fireplace.

Pellets aren't just for stoves anymore, and Green Mountain Grills makes some of the best pellet grills around. Badgerland Fireplace is pleased to offer these fine grills at our Waukesha showroom. If you haven't seen a Green Mountain Grill yet, stop by and check one out.
The build quality and materials used on Green Mountain Grills are exceptional. They're also among the most affordably priced high-end grills available today. Designed by grilling aficionados, it's no surprise Green Mountain Grills have quickly built a loyal following since entering the market in 2008.

Green Mountain Grills offers a WiFi option that lets you monitor and adjust your grill settings via a smartphone app. No more standing beside the grill for hours on end! Unless, of course, you want to.

One interesting feature offered by Green Mountain Grills is a WiFi option (about $100 extra), which enables you to monitor your grilling, adjust the temperature and get low fuel alerts on your smartphone. No one else makes a pellet smoker in this price range with the option of WiFi control. If you've ever had a massive tri-tip cooking for several hours, you know what a convenience it would be to not have to keep running out to the grill to check on it and make adjustments.
What Kind of Wood Pellets Are Required?
Any high-quality wood pellets will work. In this case, "high quality" translates as "hardwood." Green Mountain Grills has their own line of hardwood pellets, but you can find similar pellets from a variety of sources.
Many pellet grill owners have wondered if it's ok to use the less expensive heating pellets. The short answer: …Maybe. If the pellets are 100% wood (no bark) and contain no fillers or oil, heating pellets can probably be used. However, all heating pellet manufacturers are obligated to specify that their heating pellets are only for use in pellet stoves.
For best results, we recommend using only hardwood pellets sold specifically for use in pellet grills. The different hardwoods available impart a unique flavor to your grilled delicacies. The problem with most of the pellets sold for use in heating stoves is that they tend to burn with excessive amounts of smoke when used in grills (which have a lower operating temperature than pellet stoves).
Green Mountain Grills has their own line of premium hardwood pellets for use in their grills. You can purchase any of these blends at Badgerland Fireplace.
A Look Inside A Green Mountain Grill:
How It Works:
| | |
| --- | --- |
| | A motor turns an auger, which feeds pellets into a firebox. Inside the firebox is a super heated rod that automatically ignites the pellets. |
| | A combustion fan underneath the firebox keeps the pellets burning evenly. |
| | Inside the hopper is another fan to maintain positive pressure, which prevents burn-back in the auger tube. |
| | A sensor in the grill sends data to an on-board computer and the controller adjusts air and pellet flow to maintain the temperature you set. |
Badgerland Fireplace Inc. provides the best fireplace installation, repair and maintenance services for homes and businesses in Southeastern Wisconsin including: Brookfield, Delafield, Waukesha, Milwaukee, New Berlin, Wauwatosa, Muskego, Mukwonago, Madison, Franklin, Menomonee Falls, Oconomowoc, Elm Grove, Brown Deer, West Allis, Pewaukee, Glendale, Greendale, Fox Point, Whitefish Bay, Shorewood, Greenfield, Oak Creek, Cudahy, River Hills, Saint Francis, Hales Corners, Sussex, Hartland, Big Bend, Eagle, and Butler.