ErthCOVERINGS Natural Stone Veneer
Bring the Beauty of Real Stone to Any Room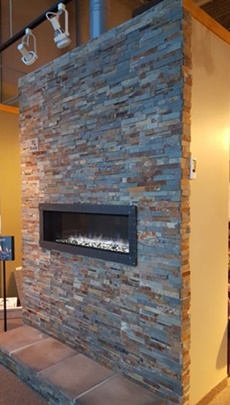 If you want real stone for your fireplace or accent wall, we recommend the ErthCOVERINGS line of natural stone veneers. Ingeniously designed, easy to install and absolutely gorgeous, these high-quality stone veneers bring all the beauty of natural stone indoors.
About ErthCOVERINGS
ErthCOVERINGS was started in 2002 by an Australian building renovator who had moved to Canada. On a return visit to Australia, he chanced upon a lightweight, natural stone veneer product he had never seen before. He was so impressed by the product, he began importing it to Canada, rebranding it there as ErthCOVERINGS. Today, the product is available throughout the United States, as well as Canada.
ErthCOVERINGS are pre-mounted in panels to make installation easier. These panels are light enough to be installed even in places you may not have thought possible. While Badgerland Fireplace is known for custom fireplace designs, we also install custom stone walls--for interior and exteriors.
ErthCOVERINGS Natural Stone Veneers Available At Badgerland Fireplace
| | | | |
| --- | --- | --- | --- |
| | 3D Series—Affordably priced, the 3D Series enhances the beauty of natural stone with variations in depth and texture. | | HandiPak—A combination of small, medium and large pieces used to create features with minimal texture but bold looks. |
| | Ledgestone—A rougher cut style with more pronounced features than the 3D Series. Suitable for both interior and exterior applications, including water features. | | Pebbles—Smooth pebbles rounded by centuries of flowing water, these natural stones can be used for fireplaces, backsplashes, walls and more. |
| | Splitface Series—Rough texture and different sizes convey antiquity, adding a sense of grandeur to any installation. | | Cascade—A textured, natural stone with a unique, worn appearance suitable for both indoor and outdoor use. |
| | Planks—Like the name suggests, these are similar to wood floor planks. Can be used on floors or walls and, of course, fireplace surrounds! | | Stone Tile—Beautiful natural stone tiles for fireplaces, flooring, backsplashes and more. These tiles have a smooth finish. |
| | Strips and Large Strips –The sharp lines and shadow effects created by the Strips series offer a uniquely modern and eye-catching look. (Large strips not shown.) | | Interlocking Pave Mat—Brings the rough hewn texture of paving stones to fireplace surrounds, walls, showers and, yes, patios and walkways. |